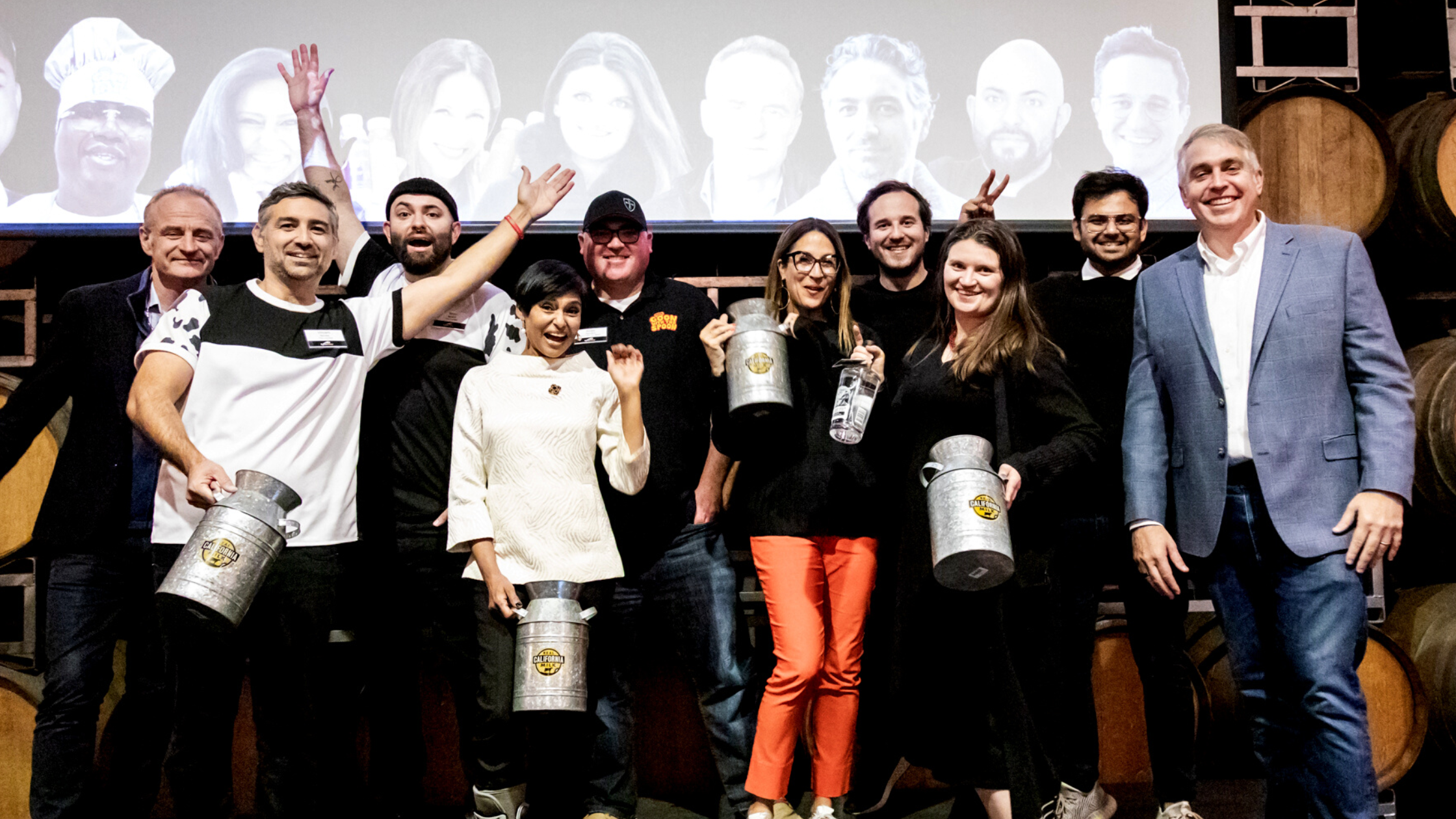 Dairy Processing: Advancing New Ideas
Originally posted In Dairy Processing
Incubator and accelerator programs continue to add value and innovation to the industry.
Incubator and accelerator programs offer support and guidance to start-ups, giving emerging brands a leg up in a competitive dairy product market.
Accelerators are aimed at existing companies that have an idea and perhaps a business model already in place but need help to move their business forward.
Incubators provide mentoring and advice on everything from branding and marketing to attracting finance. Within that setting, start-ups both learn from and build relationships with some of the most compelling challenger brands disrupting the market.
These programs offer an alternative — and a cost-effective way — of tapping into the industry's most likely future trends.
Amplifying Innovation
The Real California Milk Excelerator launched in 2019 as a way of amplifying and accelerating the introduction of innovative products made with California milk and dairy into the marketplace. It began with a meeting between John Talbot, chief executive officer of the California Milk Advisory Board (CMAB), Tracy, Calif., and Fred Schonenberg, CEO of VentureFuel, Brooklyn, NY, and a discussion of the need for innovation in the dairy category.
"The original 'what if' question evolved quickly to the Excelerator," Talbot said. "It is about capturing the passion and entrepreneurial spirit of California's startup culture and aligning it with access to an abundant supply of sustainably sourced California milk and dairy ingredients."
The program is built on the premise of supporting and nurturing innovative opportunities and products that leverage the performance, flavor and nutritional benefits of real California dairy.
"The competition is specifically designed to find, fund and accelerate early-stage products, giving entrepreneurs access to mentors, investors and buyers, non-dilutive funding, and exclusive network access from the California Milk Advisory Board," Talbot said.
Year one of the program focused on innovation in the fluid dairy space and it since has expanded over the years to include snacking, functional products and open innovation.
"We recruit the most innovative products and entrepreneurs making products that use at least 50% real dairy in their formulation, winnow them down to a selection of finalists and take them through a rigorous mentorship and support program in preparation for the final pitch stage," Talbot said.
The pitch comes in front of leaders in everything from CPG, retail and media, to venture capital.
A separate incubator spinoff was added in 2021 for applicants with potential that did not meet the standards for the full competition, Talbot added, giving them access to customized mentorship to bring them further along for the future.
From concept to Production
Getting a product from idea stage to production, and ultimately to the consumer, through retail channels or direct to consumer has many stops along the way, Talbot explained.
"Programs like the RCM Excelerator tap into a network of resources — from formulation and copacker contacts, market research, marketing resources, etc. — often unavailable to start-ups, as well as providing access to high-level mentors and even funding for elements like packaging and promotional tools," he said. "For the dairy industry, it provides a pipeline of new products and innovators using real milk and dairy ingredients and accelerating the process to get these products into the marketplace.
"The relationships built during these competitions live beyond the entry and pitch stage and continue to resonate for finalists and other participants. We want these products to succeed and have created an innovation ecosystem for support during the competition process and beyond."
Talbot said the Excelerator program is curated specifically to help entrepreneurs grow their products and business models.
There is a month-long recruiting period for makers with products made with at least 50% dairy, including but not limited to: foods, beverages, personal care products, packaging, material sciences, textiles, pet products or anything else using dairy in an innovative way, Talbot said.
These makers must have less than $1 million in domestic lifetime sales and be willing to commit to conducting business within the state of California and producing their products using 100% California milk.
Eight finalists are selected who are then entered into a three-month program featuring access to industry-specific content resources, high-quality and tailored mentorship, and a group stipend to cover costs associated with producing, developing and fine-tuning products and business plans.
At the conclusion of the program, the cohort samples and pitches their products to a panel of industry expert judges at a final live pitch event, Talbot explained. Four winners receive a $30,000 marketing support prize and access to an exclusive retailer and investor event to generate business leads and investment opportunities. A $100,000 marketing support grand prize is awarded to the winner with the highest sales tracked over a year after the live pitch event.
Over the past four years, the Excelerator has worked with 45 start-ups across numerous categories, including food, beverage, direct-to-consumer platforms, textiles and personal care.
"We've accelerated products including Goon With A Spoon, Wheyward Spirit, Sach Foods, Cheese Bits, dosa by Dosa and Kefir Labs," Talbot said. "Representing nearly 40% of states across the US, program alumni have gone from idea to distribution with organizations such as UNFI and KeHE; and many can now be found on the shelves of retailers like Walmart, Safeway, Kroger, Amazon and Whole Foods."
CMAB doesn't make or sell products, but it excels at connecting resources and understanding the industry.
"Our team comes from the CPG, retail, research, advertising and PR world. Our partner, VentureFuel, lives in the world of innovation from food to technology and everything in between," he said. "Through this combination, we can provide market research and insights, access to processors and co-packers, team mentorship from experts in production, retail, sales and marketing, as well as a network of startup and innovation experts cultivated by CMAB staff and the VentureFuel team."
A whole new whey
Dairy Farmers of America's (DFA) CoLAB Accelerator is a 90-day, immersive program that accelerates and grows ag-tech startup businesses through mentoring and educational programming.
Kansas City, Kan.-based DFA has partnered with various start-ups across the dairy value chain that provide valuable services to DFA's family farm-owners, nutritious dairy-based products to consumers or helpful insights to its business. DFA has built long-lasting relationships with several CoLAB start-ups through additional investment and support.
Wheyward Spirit, Portland, Ore., is a mission-driven alcohol company that takes excess whey from the dairy industry and turns it into a smoother, better-tasting and more sustainable farm-to-flask spirit.
Wheyward Spirit was a part of DFA and Sprint's CoLAB Accelerator in 2020.
"It was a great experience as the cohort was a blended class with food tech, ag tech and true tech solutions," said Emily Darchuk, founder and CEO of Wheyward Spirit. "Having a blended class, we had a more diverse group of speakers, which enabled me to build relationships and share learnings with a broad group of other founders, which was especially important during the time of quarantine. I think some of the ag tech solutions benefited from seeing the branding approach the food tech/CPG solutions took in developing our products. For me, seeing the approach the ag tech companies took in solving problems upstream on the farm was a great insight to the needs of a fully integrated co-op like DFA."
Darchuk said Wheyward Spirit came on DFA's radar as it was looking for existing companies that helped drive innovation and solved the needs of their stakeholders and customers.
"Wheyward Spirit fit the bill, as we had an innovation that drove category creation as well as valorized a waste stream for DFA," she said. "We also were a company with very strong branding and purpose. They had read about Wheyward Spirit in a magazine article and after a screening call, the DFA team encouraged me to apply. Within the cohort, waste stream utilization was a big trend and there were a handful of companies utilizing whey waste, including GoodSport, Superfrau, Wheyward Spirit and Capro-X. It's been great, as I've continued to keep in touch with all of these companies' founders as we have all successfully grown our companies."
Darchuk said the accelerator program was also a catalyst for continuing to work with DFA.
"We have maintained a very close relationship with senior leadership, have spoken at subsequent annual meetings, and Wheyward Spirit is always behind the bar at their events," she said.
Darchuk said accelerators are a great way for larger companies to innovate through partnerships with startups.
"Often what startups bring to the table — nimbleness, focus, rapid value creation, innovation, category creation, unique branding and real-time customer insights — would take enormous resources for a large company to recreate. But what start-ups need most is often capital and supply chain efficiencies, which are easy for a large company to share and deliver a mutual benefit," she said.
Accelerators and incubators, Darchuk continued, are also a great opportunity for a larger company to get to know the founding team for future business opportunities and partnerships.
"With many challenges facing the industry, I am starting to see a real divide in which dairy companies that are forward-thinking on tech and innovation solutions, and able to effectively partner with start-ups to cost effectively acquire and incubate solutions of the future," she said, predicting those who do will have a huge market advantage in a few years.
A breakthrough for milk
In early 2023, Dairy Farmers of America (DFA), in partnership with Good Culture, Irvine, Calif., introduced a breakthrough innovation for milk.
DFA Dairy Brands R&D and Innovation teams have been exploring lactose-free, probiotic milk for several years, especially as gut health and interest in lactose-free milk has continued to grow. The project became especially relevant as the COVID-19 pandemic accelerated consumer demand for products that can support immune health.
The new Good Culture Probiotic Milk combines the taste and nutrition of lactose-free milk with a patented probiotic shown to help support digestion and a healthy immune system. Good Culture is known for its portfolio of cultured dairy products that use simple ingredients and support gut health.
Available in whole and 2% reduced fat milk varieties, Good Culture Probiotic Milk has an extended shelf life and each 12 oz serving provides 1 billion probiotic cultures.
"When the opportunity arose to introduce a new take on milk with functional benefits, it was the perfect fit for the Good Culture brand and mission," said Jesse Merrill, chief executive officer at Good Culture. "We brought the same disruption to the cottage cheese category in 2015 and remain grounded in the belief that human health and wellness starts in the gut."
In addition to making good-for-you, gut-healthy products, Good Culture is also committed to doing what's good for animals and the planet, Merrill said.
"We've been charting a course to elevate the industry's standards for pasture-raised dairy and our partnership with Dairy Farmers of America provides an opportunity to create material change to the food system," he said. "We've been working closely with DFA to expand our pasture-raised dairy mission. Together, we've launched a pilot program called Path to Pasture that offers regenerative agriculture farming resources to DFA farmer-owners."
Merrill said the Path to Pasture program is designed to help farms adopt sustainable business practices by offering technical assistance, educational tools, soil testing, funding options and other services to develop customized soil health and grazing plans.
Related Articles
John Talbot, CEO of the California Milk Advisory Board, and Fred Schonenberg, founder of...